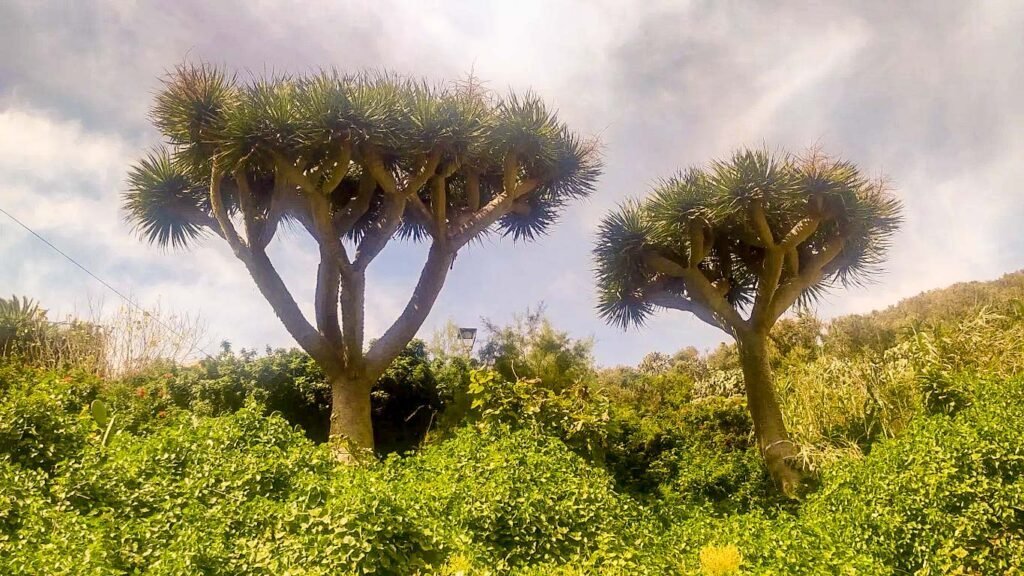 ANAGA RURAL PARK
Are you looking for a scenic getaway in Spain? Anaga forest in Tenerife is the ideal place for nature lovers looking for an outdoor adventure. The mountains, the deep ravines and the exuberant vegetation make it one of the most charming landscapes in the country. We are talking about a protected area and that it was declared a Biosphere Reserve.
Whether you are an experienced hiker or simply looking to escape the hustle and bustle of city life, the Anaga Laurissilva Forest offers something special. In this article, we'll take you through these forests and provide you with all the information you need to know to plan an unforgettable trip.
What Makes Anaga Forest Unique?
The Anaga Forest is special in many ways. It's one of the oldest parts of Tenerife and has been around for millions of years. The area has rough ground and many different kinds of plants, which makes it a very diverse ecosystem. There are lots of animals living there, including the largest number of unique species in Europe.
The forest is also famous for its beautiful scenery, with big mountains and deep valleys offering amazing views. And because it's on the northeast coast of Tenerife, it's often misty, which makes it feel like a different world.

The park occupies part of the of Santa Cruz de Tenerife, La Laguna and Tegueste.
The Flora and Fauna of Anaga Forest
Anaga Forest has many different plants and animals. The main type of tree there is the laurel tree, which grows well in the damp and misty weather. You can also find a lot of dragon trees (Dracaena draco) there.
Other types of trees that you might see include heather, fayal-brezal, and Canary Island pine. The forest is also home to many kinds of birds. If you're fortunate, you might even see a canary lizard.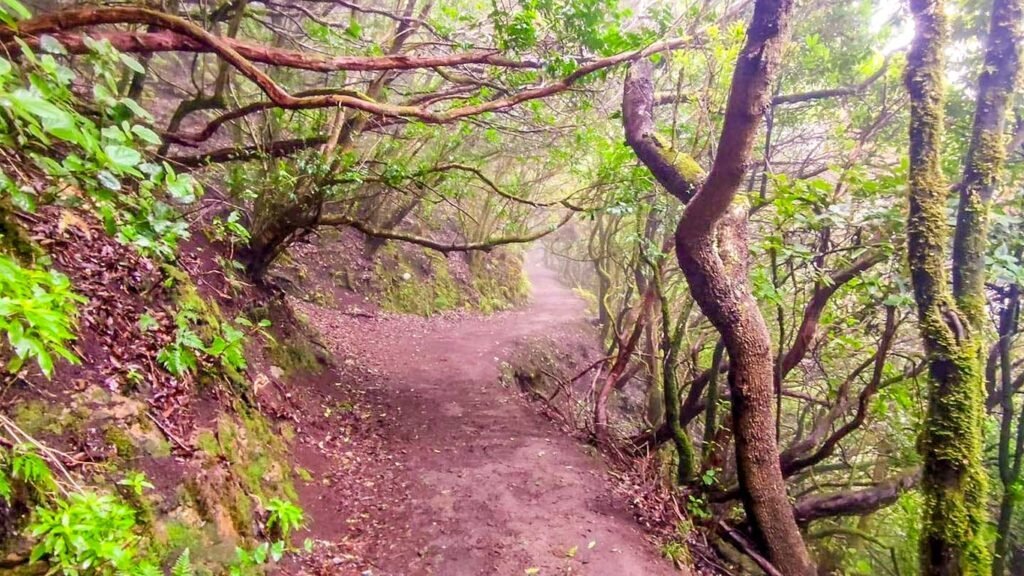 Hiking Trails in Anaga Forest
Anaga has many hiking paths that are suitable for all levels of experience. No matter if you're a beginner or an experienced hiker, you'll find a trail that works for you.
One of the most liked routes is the Cruz del Carmen trail to Punta del Hidalgo. This trail is around 7 miles long and is of medium difficulty. It takes you through thick forests and rocky areas, and you'll get to enjoy amazing views of the coast.
Remember that some trails in Anaga Rural Park need permission, so check the official pages.
Preparing for a Hike in Anaga Forest
Before embarking on a hike in the Anaga mountains, it is important to be prepared. Here are some tips to help you get started:
• Wear appropriate clothing and footwear: The forest can be misty and humid, so it is important to wear layers and waterproof clothing. And be sure to wear sturdy hiking boots with good grip.
• Pack Lots of Water and Snacks – It's important to stay hydrated during your hike, so be sure to pack plenty of water. And don't forget to pack snacks to keep your energy levels up.
• Check the weather forecast: The weather in the forest can be unpredictable, so be sure to check the forecast before your hike.
To make it safer for them and to take better advantage of the walks, hire the routes from local companies that are professionally dedicated to it.
The Best Time to Visit Anaga Forest in Tenerife
You can do this activity all year round, as long as the weather is good, but the best time to go depends on what you like. If you prefer it to be cooler and less busy, the winter months are the best. And if you want to see the plants and flowers in the forest, then spring is the ideal time to visit.
Sustainable Tourism in Anaga Forest
As with any popular destination, it is important to practice sustainable tourism when visiting Anaga. Here are some tips to help you minimize your impact on the environment:
• Stay on designated trails to avoid harming the delicate ecosystem of the bush.
• Bag up all your trash and recyclables.
Respect forest wildlife and avoid disturbing their natural habitats.
Conclusion and Recommendations for Visiting Anaga Forest in Tenerife
Anaga Forest is a great place to go for people who love nature and want to have outdoor adventures. The forest has many different kinds of trees and landscapes, which can help you get away from the noise and crowds of the city. Before you start your trip, it's important to get ready and use sustainable tourism practices to make sure you don't harm the environment. Also, make sure you don't miss the chance to discover the forest's secrets, which can teach you a lot about its past and culture. Get your bag ready, put on your boots, and get ready to explore the amazing Anaga Forest!
Photographs by Gerardo Oronoz.
---
Find everything you are looking for about Tenerife with just a search: Explore the island through our search box:
---