Villa of La Orotava
Tenerife – La Orotava.
Located in the north of Tenerife, La Orotava is a charming town that offers a glimpse into the rich history and culture of the island. This gem has managed to preserve its authentic Canarian roots and remains one of Tenerife's best kept secrets. From its picturesque colonial architecture and lush botanical gardens to its lively parties and delicious cuisine, La Orotava has something for everyone. Whether you're a history buff, nature lover, or just looking to escape the crowds, this town is a must-visit destination. In this article, we'll take a closer look at what makes La Orotava so special and why it should be on your travel bucket list. So pack your bags and get ready to discover Tenerife's hidden gems!
History of La Orotava
La Orotava has a long history that goes all the way back to the time before the Spanish arrived on Tenerife. The Guanches, who were the first people to live on the island, were good at farming and fishing. You can still find proof of their existence in the área today.
La Orotava became a significant farming hub after the Spanish took over in the 15th century. Its economy flourished, resulting in the creation of many grand homes, churches, and government structures.
Today, the historic center of the town, declared a National Historic-Artistic Site in 1976, bears witness to its rich heritage.

One of the most emblematic places in La Orotava is the Casa de Los Balcones, a 17th century mansion with a beautiful wooden balcony that is considered one of the best examples of Canarian architecture.
The museum and craft center in the house display how people in Tenerife lived traditionally. Visitors can see furniture, textiles, and ceramics. The Iglesia de La Concepción, a Baroque-style temple built in the 18th century, is also worth visiting. It has a valuable collection of sacred art.

The old town of La Orotava is also home to many other historical buildings, Antiguo Convento y Iglesia de Santo Domingo, Casa de la Cultura de San Agustín, which are worth visiting.
As you stroll through the cobbled streets, you'll feel like you've stepped back in time to a bygone era.

The rich history of La Orotava is also reflected in its many cultural events and traditions. One of the most important is the Corpus Christi procession, which takes place in June, where the streets are adorned with intricate carpets made of flowers and colored sand. It is a spectacle not to be missed.
Cultural landmarks
In addition to its historical sites, La Orotava also has a number of places of cultural interest that are worth visiting. The city is home to several museums, including the Museo de Artesanía Iberoamericana, which exhibits art and crafts from Latin America, and the Museo Municipal de Bellas Artes, which houses a collection of contemporary art.

If you're interested in botany, head to the Jardín Botánico, a botanical garden that features plant species from around the world. medicinal.

To learn about the local culture, visit the Mercado Municipal, the main market, which sells fresh produce, seafood, and local specialties such as gofio, a flour made from toasted cereals that is a staple of Canarian cuisine. You will also be able to taste the delicious wines produced in the town, which have a unique flavor thanks to the volcanic soil and climate.
Gastronomy of La Orotava
Speaking of food, La Orotava offers a variety of traditional dishes and local specialties. One of them is wrinkled potatoes, small potatoes boiled in salted water until the skin wrinkles, accompanied with mojo, a spicy or mild sauce.

You can also enjoy some of the local cheeses, such as queso de cabra, a goat's milk cheese that can be perfectly paired with local wines.
Outdoor activities in Tenerife – La Orotava
The natural environment of La Orotava is as impressive as its cultural heritage. Part of the Teide National Park, which is a UNESCO World Heritage Site and which is home to the highest mountain in Spain, Teide, belongs to La Orotava. The park offers a variety of outdoor activities, including hiking, mountain biking, and boasts some of the most spectacular scenery in the Canary Islands.

Another popular attraction is the Caldera de La Orotava. a recreational area located in the mountains and that is equipped with tables, seats and barbecue areas. A place to spend a day surrounded by nature.

For those who prefer to relax, head to Playa del Bollullo, a black volcanic sand beach that is protected by cliffs and offers stunning views of the Atlantic Ocean. The beach is equipped with all the amenities you need. Remember that when going to the beach you should look at the weather and safety warnings.
Festivals and events in La Orotava
Tenerife – La Orotava is known for its festivals and events, which celebrate the culture and traditions of the town. One of the most important is that of San Isidro Labrador, which is celebrated in the month of May and June and pays homage to the patron saint of farmers with a procession, fair and livestock show.
Another popular event is the Fiesta de la Alfombra, held in May and June, where the streets of La Orotava are covered with colorful carpets made of flowers and sand.
Accommodation options in Tenerife – La Orotava
It offers a range of accommodation options for all budgets and tastes. Check out the Parador Nacional del Teide, which is located in the Teide National Park, or the Hotel Rural La Orotava.

For those looking for something cheaper, there are several hostels or guest houses in the city center, such as Hostal Casa del Turista and Pensión Silene.
---
How to get to La Orotava
---
La Orotava is located in the north of Tenerife, approximately 27 min (26.3 km) via TF-5 from Tenerife North airport.
The easiest way to get there is by car, either renting one at the airport or taking a taxi.
You can also take the bus from the airport to Puerto de la Cruz, which is located a few kilometers from La Orotava and from there change to another bus that will take you to the town.
Tips to go to Tenerife – La Orotava and make the most of your visit
If you are planning to go to La Orotava, here are some tips to help you make the most of your visit:
– Wear comfortable shoes, as many of the city's streets are cobbled and steep.
– Bring a camera to capture the beautiful architecture and scenery.
• Try the local cuisine, especially typical Canarian dishes and local wines.
• Check the calendar of events and festivals to see if there are any during your visit.
– Take a day trip to the Teide National Park to experience the natural beauty of Tenerife.
Conclusion
La Orotava should be on the visit list of all travelers. From its history and culture to its natural landscapes and delicious cuisine, this city has something for everyone. So pack your bags and get ready to travel to Tenerife.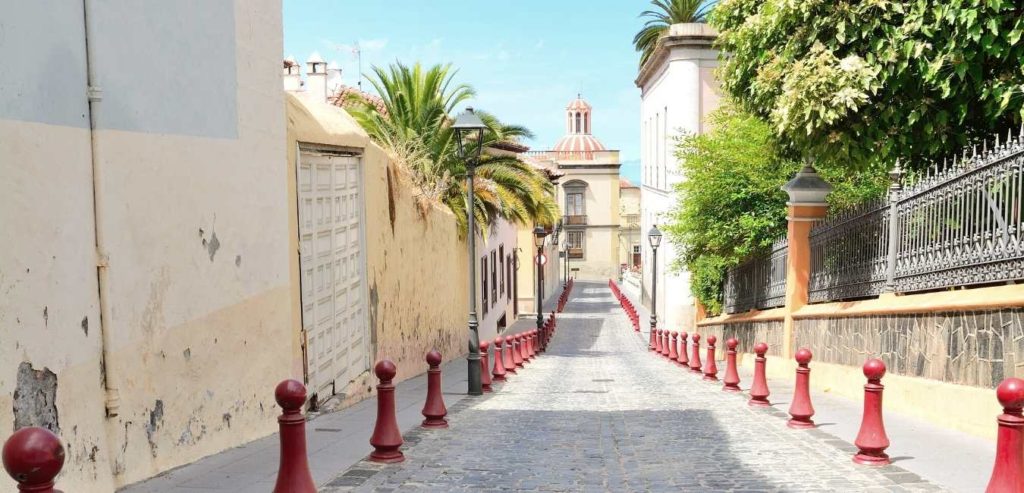 ---
Map Tenerife – La Orotava:
---
Complies with the regulations of the authorities. Consult them on their pages. Do not damage these places and do not leave trash behind.
---
End of the article on Tenerife – La Orotava.