Introduction
El Medano
Tenerife is an ideal location for those who want beautiful beaches, stunning scenery, and exciting activities. Is a unique and exciting destination that must be experienced by anyone looking for adventure or relaxation.
A Brief History
It is located in Granadilla de Abona on the island of Tenerife. Originally a small fishing village, it became a port of call for shipping routes between Santa Cruz de Tenerife and the southern coast of the island at the end of the 19th century. Today it is the main tourist center of Granadilla, attracting people from all over the world.
What to See and Do in El Medano
Tenerife offers a variety of places, such as Leocadio Machado beach and Montaña Roja, a protected natural area with a volcanic cone and caldera. In addition, visitors can visit towns such as Arenas del Mar, El Cabezo, El Topo and Ensenada Pelada, each showcasing Tenerife's rich cultural heritage.
---
---
Best Time to Visit El Medano
With its temperate climate, it is a destination for the whole year. Visitors can experience warm and sunny weather during the summer months and mild temperatures in Winter, around 20°C.
El tiempo – Tutiempo.net
How to Make the Most of Your Trip to El Medano
Do you want to enjoy the sun and fun? El Médano has many options. Whether it's on the beach, trying windsurfing, hiking Red Mountain, this town has something for everyone. It is not surprising that it is becoming a major destination in Tenerife.
Frequent:
What is the best way to get to El Medano?
Visitors can reach by car, bus, or taxi. The nearest airport is Tenerife South, which is located just a short drive away.
---
Is there a nearby site worth seeing?
Yeah! Visitors can also go to the Teide National Park, in the south is Siam Park in Adeje, the best water park in the world.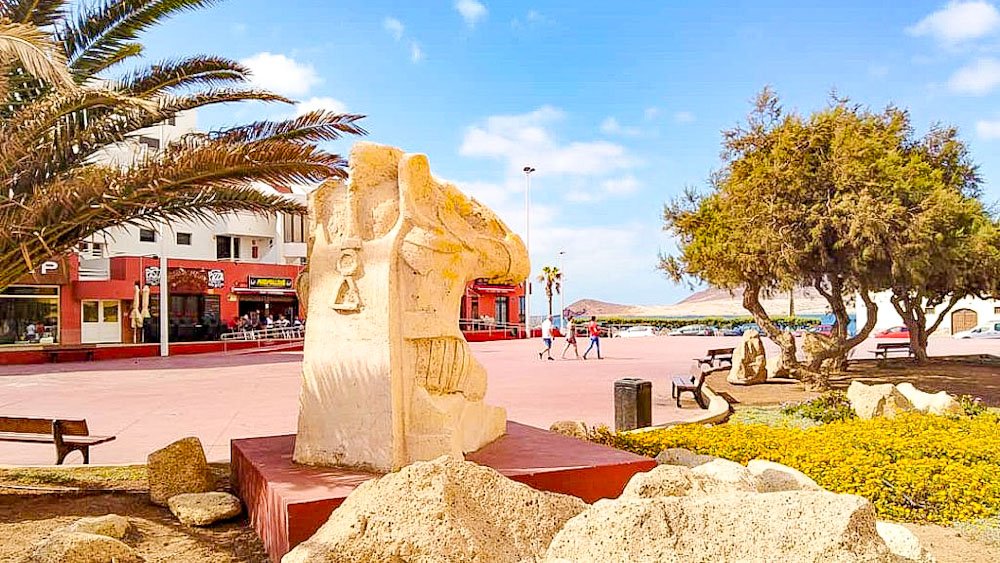 ---
How to get to El Medano:
---
When we travel to new places, we must remember that we are guests. As visitors, we must abide by the rules. This is important when it comes to preserving Tenerife's natural spaces.
If you are planning to visit Tenerife, it is important to comply with the rules and regulations set by the authorities. These rules are put in place to protect the environment and ensure that future generations can also enjoy these beautiful spaces. Be sure to check the official pages and guidelines before you embark on your trip.
When you visit Tenerife's natural wonders, it's important to think about the environment. Please don't harm these areas by taking plants or disturbing the wildlife. Remember to clean up all your rubbish and leave nothing behind after your visit.
As travelers, we get to explore new places and cultures. Let's also be responsible and show respect for the places we visit, so we can help preserve the natural beauty of Tenerife for future generations..
---
Looking for a place to spend your vacation? Look no further than Tenerife, one of the most impressive destinations in the world. From pristine beaches to beautiful natural landscapes and a variety of activities, Tenerife has it all.
At Ven de Visita a Tenerife, we want to help you find all the special places on this great island. There is something for everyone here, whether you want excitement or peace.
Take a stroll along the streets of Santa Cruz de Tenerife, explore the rugged beauty of Teide National Park, or simply relax on the golden sands of El Medano. With so much to see and do, you'll never be bored in Tenerife.
And when it comes to food, Tenerife has some of the best cuisine in the world. From traditional Canarian dishes to international cuisine, there is something for every palate. And don't forget to try some of the local wines: Tenerife is home to some of the best vineyards in Europe.
So what are you waiting for? Come and discover Tenerife with Ven de Visita a Tenerife. We'll help you plan the perfect holiday and make memories that will last a lifetime.
End of the article on El Medano in Tenerife.